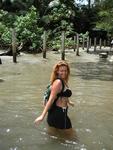 WheresCherie.COM>
4184521 visitors since 07/2002



the United States


Featured on: Yahoo! Picks
& USA Today

OC Register column

Register an account!
Registering for an account is quick, and registered users can send messages to other users, post on message boards rate stories, and are notified of site updates.


Where are you going next?

logged users ::
active for last 5 minutes

Site created by
Raging Network Services
Logo by
Chris Barela


RSS Feed
"Success is the ability to go from one failure to another with no loss of enthusiasm." -- Sir Winston Churchill
400--Mexico: Typical Travel Chaos
@ CherieSpotting Nov 13 2007 - 20:06 PST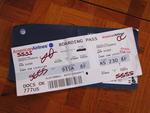 Here is my ticket to Cabo San Lucas on Alaska Airlines. I was supposed to know this (even though it says American Airlines) because it says AS instead of AA.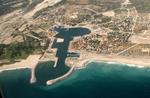 The view out the window of my flight to Cabo San Lucas.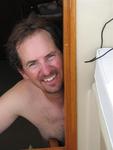 Greg smiling after his first shower upon the completion of the 2007 Baja Ha-Ha, a 780-mile sailboat rally from San Diego to Cabo San Lucas.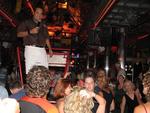 The "Unofficial" Party at El Sqid Roe in Cabo San Lucas, Mexico.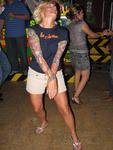 A Ha-Ha participant shows off her arm artwork.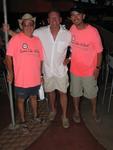 Mike, Dave and Greg, the crew of Snow Goose, a 50-ft Maple Leaf.

cherie writes: Many people ask me what my life is like on a typical day. Here's a copy of my journal on 11-07-07.

I woke up at 4:27am. I know the exact time because I checked my phone (soon I'll be chucking my phone when I arrive in Mexico, but for now, I'm still tied to it.)My alarm was set to sound off at 4:30am. I despise alarms and my body saves me from the annoying sound by waking me up a few minutes before the offensive beep.

Karem and Blake drove me to the airport; Karem did the driving because Blake is 4. I hopped on my quick flight from Los Angeles to San Diego. My morning was going smooth—but a snafu was lurking in the shadows.

I've never flown into San Diego airport before and when I arrived at the terminal I looked around and headed toward the gates. I figured the security guard would point me in the right direction, so I handed over my passport and ticket.

The security personnel narrowed her eyes, pursed her lips and took my passport to her supervisor. The supervisor returned with my document and announced to me (and the growing security line) that my passport was invalid. This is a common occurrence because the expiration date on my passport is crossed out and the extension is printed on the back page.

I showed him my extension and he shrugged like an uninterested teenager. The Supervisor would only say these words: "It's invalid, it's invalid, it's invalid"; he was a freaky toy with the button stuck.

Everyone knows what those lines are like at airport-security—men talking off their smelly shoes, women pulling their laptops out of their bags, health-nuts arguing that cottage cheese is not a liquid, mothers upset that they have 4-ounce jars of face-cream instead of 3-ounce ones, and children screaming at the thought of being separated from their stuffed Sponge Bob Square Pants.
The valid/invalid war continued. I heard one of the TSA agents say to an eavesdropping passenger: "Stop listening to them and take off your shoes." I was causing a ruckus.

At this point I forgot who was wearing the uniform. I put on my sassy-pants and sassed right back. The Supervisor and I continued our high-volume valid/invalid exchange of words when one of his uniformed comrades joined his side. Typical.

I was saying something to the effect of: "There are stamps from over 60-countries in my passport and the only person who has ever had a problem with my passport besides YOU was a train-guard in the Czech Republic."

Suffice it to say that the Super-Visor wasn't a fan of Super Cherie. I don't think he'll be checking my website for future updates. Thankfully another TSA officer came up with the "other ID" idea. I slipped back into the regular line by virtue of my driver's license. There was such a fuss made about my passport that no one bothered to look at my ticket. I was in the wrong terminal and I didn't know it yet.

While I was shuffling through the security line, I overheard the Supervisor inaccurately telling the Cherie-passport story to another uniform. I heard the words "invalid passport" and I couldn't let it go. Sometimes being "right" is also being dumb.

The Supervisor snatched my ticket and gave it to the document checker who put four S's on it. I was now officially chosen for the "extra" security search. In other words, I was about to be felt up by a stranger and then caressed with a magnetic wand. And all of this before breakfast!

I tried to sooth myself with deep breathes but that just gave my brain more oxygen and fueled my anger. After I made it through security, I plopped myself down in a seat and called Jean. (There are not many people you can wake up at 7am, but Jean's in Florida, and she's normally out of bed by 10am.)

Jean and I leisurely chatted my crucial departure minutes away. I mentioned how charming the San Diego airport is with only four gates. "You must be in the Commuter Terminal," Jean said. "You're flying to Cabo from the Commuter Terminal? That doesn't sound right. You might be in the wrong place."

The truth and logic hit me immediately. I ran to the desk agent and held up my ticket. "Your flight leaves in 36 minutes" the agent said. "You have to get to Terminal 2 now!"

The first "leg" of my Cabo trip was "operated-by" American Eagle, so my ticket said American Airlines which is in Terminal 2.

Arriving in Terminal 2 via a red bus, I couldn't find my flight to Cabo San Lucas anywhere on the screen. I went to security and the lady told me that I was in the wrong terminal. Although my ticket said American Airlines, I was flying on Alaska Airlines. Of course, doesn't everyone take Alaska Airlines to Mexico? The difference is an AA on your ticket versus an AS on your ticket. I was in the wrong terminal again.

I ran to Terminal 1, checked the departure list and I couldn't find Cabo San Lucas anywhere. Note for passengers traveling to Cabo San Lucas in the future—the destination is listed as Los Cabos…under L, not C.

That wasn't the end of the fiasco, those damn security Ss were on my ticket, so I had to go through the extra-security again.

Fortunately there are only three Terminals in the San Diego airport, because my flight was about to take-off. Alaska Airlines was paging me when I arrived breathless at the gate. That's one way to stay in shape, take an early-morning 3-terminal jog with luggage.

Certainly my day could have been worse. I could have missed my flight. They could have lost my luggage. I told myself these things as I pressed my face against the airplane window watched the Pacific roll under me. While the plane gave me a latitude adjustment, I gave myself an attitude adjustment.
When I stepped off the plane, the Mexican sun kissed my check and I inhaled the balmy air. I could feel the Spanish in my mouth waiting to escape.
I scooped up my luggage and got the "green light" at customs. I decided to make my journey easy and book a $15 shuttle to downtown Cabo San Lucas (versus the $75 cab ride.)

The journey between when you book the "Official Shuttle" and board the "Official Shuttle" there are over a hundred nicely-dressed time-share vendors disguised as shuttle-drivers. "The trip downtown will only take one-hour, that is, after a 90-minute presentation," they say.

I escaped Time-Share-Hell and eased into my air-conditioned bus.
When the driver started the engine, he mumbled something that ended with "free beer." I perked right up. Apparently the driver was also an entrepreneur that figured that Americans can't resist cold free beer. He opened up an ice-chest loaded with Pacificos and I thought things couldn't get much better.
I popped my cerveza and got to know my new shuttle buddies.

What happened next could turn anyone into a Believer. Who else but God would sit a massage-therapist next to me after a morning of airport-hell?
We chatted, laughed, drank cold beer and exchanged business cards. The ladies next to me were also flying in to see the arrival of the Baja Ha-Ha fleet.

My hotel was a pleasant colorful surprise. As I walked down the hall, I saw the ubiquitous red Mount Gay sailor hat and asked if its occupant was here is support of the Baja Ha-Ha.

Bob, who owns a dredging business in San Diego, was supposed to crew on the Baja Ha-Ha, but couldn't because his home burned down in the fires.
Bob seemed to be in an incredibly good mood for a guy who just lost everything, so I spent the rest of the day exploring Cabo with him.

Click on each picture to see it full size.

read comments (0) | write comment| views: 6499 | rated: 0.0 printer-friendly version