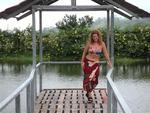 WheresCherie.COM>
4167819 visitors since 07/2002



the United States


Cherie's Birthday is June 20th.

Featured on: Yahoo! Picks
& USA Today
OC Register column
Register an account!
Registering for an account is quick, and registered users can send messages to other users, post on message boards rate stories, and are notified of site updates.

Where are you going next?
logged users ::
active for last 5 minutes
Site created by
Raging Network Services
Logo by
Chris Barela


RSS Feed
"Art is a lie that enables us to realize the truth." -- Picasso
349--Italy: Dead Man's Party in Roman Crypt
@ Site News Apr 27 2006 - 19:56 PST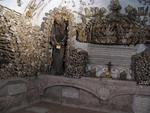 Would the deceased Capuchin monks approve of this bone-chilling art?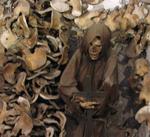 What tales does this crypt have to tell?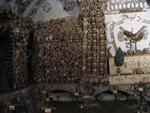 The hip bone's connected to the tail bone and the tail bone's connected to the...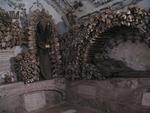 Could you rest for eternity under an arch of human bones?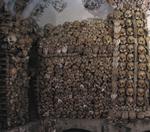 Which one is Fred?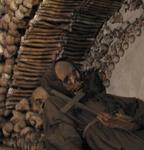 Pillows have come along way. Those skulls can't be comfy to lie on forever.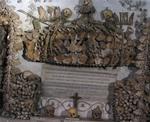 The latest in Roman bone-art.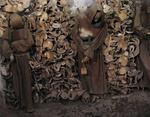 Now that their skulls are piled on top of each other in mass, did it make a difference if this monk was generous and that friar was a cheat?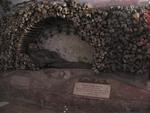 Kicking back on the brothers.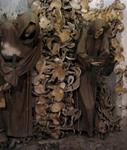 Bones like these used to be considered holy relics attracting religious pilgrims from around the globe.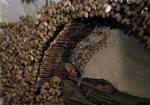 Sleep tight, don't let the crypt-bugs bite.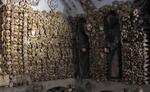 Do monks retain their modesty, even in death? Do you really need to put a robe on a skeleton?

Cherie writes: There's no bones about it, there's something strange about coming face to face with a skeleton. In Rome, there's a crypt that only the most dedicated travelers seek. It's called the "Cripta dei Cappuccini", or the Capuchin Crypt.

Inside the crypt you are confronted with thousands of skulls, the remains of 4,000 monks. Since these Capuchin friars died between 1528 and 1870, their flesh has long since rotten away. In other words, even though there are bones piled up everywhere, the crypt doesn't have the lingering stench of death.

Even though the crypt smells nice, staring at a bunch of friar's bones borders on creepy. Hanging out with the dead monks I thought: this is truly a dead man's party. I wonder what tales this crypt has to tell?

If talking about death makes you squirm, the Capuchin Crypt might not be the "tourist attraction" for you. Some visitors say it's eerie, others say it's offensive, and some say it's just plain weird.

For those who feel a bit uneasy there's a cheerful crypt welcome sign: "What you are, we once were. What we are now, you shall someday be." Nothing is eternal, even in the "Eternal City".

The strange thing about the Capuchin Crypt is that the bones have been organized into what some call a work of art and others call sacrilege. Was hanging bones on the wall some random medieval fad that died out?

Are these decorating ideas dead? Should monks really be interior designers?

Who knew pelvic bones could simulate wings so well? How else should you decorate a crypt? Doesn't bone-art make the most sense?

Some of the skeletons are robed and reclining on their dead brother's skulls. (Do monks retain their modesty, even in death?) Do you really need to put a robe on a skeleton?

Some skeleton-monks are clutching crosses while others are kicking back in niches carved into the walls. Sleeping on a skull might be fine if you're dead, but I prefer a fluffy pillow.

Bones like these used to be considered holy relics attracting religious pilgrims from around the globe. People still visit the crypt, but today the "pilgrims" are dressed in jeans and have a camera slung around their neck.


While looking at the skeletons, I couldn't help but wonder about them as individuals. Was this skeleton a fat and happy friar? What that pile of bones skinny and miserable when he was alive?

What did the monks dream about? Did they argue about petty things?

Now that their skulls are piled on top of each other in mass, did it make a difference if this monk was generous and that friar was a cheat? In the end, are we all just a bunch of bones?

These are the questions that many tourists ask themselves while looking at a room full of human remains.

I asked myself this additional question: would I care if my bones were used to decorate someone's walls? Would the monks approve of this bone-chilling art?

Some say the intricate designs are macabre, but I disagree.

There are few things that are certain in this world: one of them is death. Many people sleep through their lives, and wonder on their deathbed "where did the time go?"

One day in the future someone may look at your bones and get creeped-out. Skeletons are a reminder of death and death is a reality-check.

What a shame it would be to die, if you hadn't got a chance to really live. The thought of death depresses some, but it wakes others up.

When I die I'm ok with someone hanging my bones on the wall (if that's the latest fashion in interior design.) Just as long as there is a sign by my bones that says something like: "This girl wore these bones out with pleasure."

While the crypt may be a haven for lost souls, there are only a handful of rooms, so it's impossible to get lost. While its easy to find your way around once inside the crypt (there's only one hall), finding the crypt is a bit more difficult.

The Capuchin Crypt is under the Church of the Immaculate Conception near Barbarini Square, Rome, Italy. The church, located on 27 Via Vento, is also called Santa Maria della Concesione.

Click on each picture to see it full size.

read comments (0) | write comment| views: 12622 | rated: 0.0 printer-friendly version