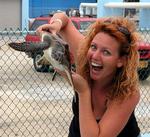 WheresCherie.COM>
3875368 visitors since 07/2002



the United States


Featured on: Yahoo! Picks
& USA Today

OC Register column

Register an account!
Registering for an account is quick, and registered users can send messages to other users, post on message boards rate stories, and are notified of site updates.


Where are you going next?

logged users ::
active for last 5 minutes

Site created by
Raging Network Services
Logo by
Chris Barela


RSS Feed
"If people only knew how hard I work to gain my mastery, it wouldn't seem so wonderful at all." -- Michelangelo Buonarroti
299--Thailand: Rock Climbing on Railey Beach
@ CherieSpotting Jul 07 2005 - 17:10 PST

I'm half-way through my climb and still smiling! Remarkably, I made it to the top!

Go climb a rock!

Cherie ready to belay.

Which one is having a bad hair day?

Hilda: "You call these tiny crevices hand-holds?"

Hilda makes it look easy. Or funny?

Note: Hilda is afraid of heights.

Leighton in shadow.

What is Leighton doing to that rock? Kids these days!

There's a wall. Let's climb it.

Cherie ready to rock.

You look a bit skinny. Are you sure you can hold me?

Up, up, up and away.

That is a genuine: I-made-it-to-the-top smile.

There's no other feeling like the exileration you feel at the top of a tough climb.

There's Diane!

Hanging in there, or hanging on there?

Leighton.

He's at the top!

On his way down. Where's the beer?

No worries...this guy's got you!

That's me in the middle!

Going up?

Going down.

Can you see the people climbing the rock?

Not bad scenery here on Railey Beach.

I'll take one rock, straight up.

No fear Hilda!

Climbing ladies.

After the climb we are rewarded with sweet pineapple.

Leighton eats his weight in pineapple--about 3 pineapples!

Diane on the beach.

Lush.

Cherie stretching her legs on the powder-fine sand.

My hut is your hut.

The tide is out.

While we wait, let's inhale the view.

Hilda and Leighton on the boat ride back back to Krabi.

The whole gang survived!

A quick stop?

Is there supposed to be water here?

Are those rain clouds heading our way?

Hannah, Hilda, Diane and Cherie.

Shore to shore service.

Sand yachts?

The local gas station.

The girls cool off.

Refreshed!