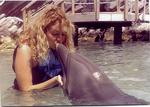 WheresCherie.COM>
3518549 visitors since 07/2002



the United States


Featured on: Yahoo! Picks
& USA Today

OC Register column

Register an account!
Registering for an account is quick, and registered users can send messages to other users, post on message boards rate stories, and are notified of site updates.


Where are you going next?

logged users ::
active for last 5 minutes

Site created by
Raging Network Services
Logo by
Chris Barela


RSS Feed
"One word frees us of all the weight and pain in life: That word is love." -- Sophocles, 406 B.C.
144b--Zimbabwe: Don't Eat Fried Worms
@ CherieSpotting Aug 21 2003 - 05:20 PST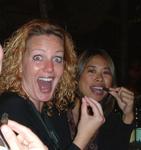 Cherie and Renee eat Mopani worms for the first and last time. That's enough "culture" for one lifetime.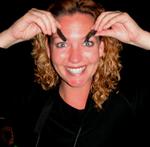 Those aren't bushy eyebrows--they are Mopani Worms, a delicacy in Zimbabwe.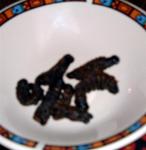 Bowl full of worms? Anyone?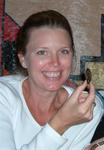 Kristi holds up her worm. She got the smallest one.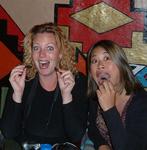 Cherie and Renee only smile and laugh before they eat the worms.

cherie writes: I ate a worm. Not the acceptable kind. Not the kind you find saturated in agave in the bottom of a bottle of tequila. I ate a Mopani worm, which is common cuisine for the people of Zimbabwe and a disgusting show of bravado for idiotic tourists. If you ever have a chance to savor this delicacy, heed my advice and DON'T DO IT!

Eating a Mopani worm was the most disgusting thing I have ever done in my life. I felt the same repulsion a 17-year old feels the first time she learns that a "blow job" has nothing to do with drying her hair.

I was in Zimbabwe with some friends and found out about a restaurant that offered to give tourists a certificate if they ate a Mopani worms. I'm sure the gagging tourists provided much comedy for the impoverished local servers. In a country as poor as Zimbabwe, you take laughter when you can get it.

Most of the worms were about the size of my little finger and cooked nice and crispy. They looked like chubby miniature Slinkys. I picked the blackest worm. I'd rather eat charcoal than worm guts. It was probably way over-cooked by local standards. That's how I wanted it—dead and charred.

To get the certificate was quite a process: first you had to hail a waiter, which is no easy task in Africa. Next the staff had to watch you put the worm in your mouth and chew. Yes, I had to chew. Then you had to open your mouth like a toddler and prove it was all gone. Then you had to wait 2 hours for your certificate to prove that you did yet another dumb thing in the name of learning another culture.

Everyone at our table grabbed a worm. We decided to eat the worms at the same time. I tried to tell myself that worms weren't gross.

My internal dialogue went something like this:
"Gross is just a judgment. In my culture we eat things that other nations would find nauseating. In one day I might eat a chicken's period for breakfast (eggs), pig parts wrapped in intestine for lunch (hot dogs) and a cow sent through a meat grinder for dinner (hamburger.) It is all how I chose to think about it."

When I popped the worm into my mouth the first crunch wasn't so bad. "This tastes like BBQ," I thought. Then the second crunch let loose the slimy insides which tasted exactly what I feared a worm would taste like. It tasted like someone blew their nose in my mouth.

As my face contorted I had a worm-induced breakthrough. I realized I would never do anything to get a certificate again.

Click on each picture to see it full size.

read comments (0) | write comment| views: 12612 | rated: 0.0 printer-friendly version