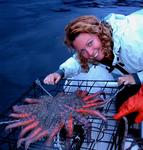 WheresCherie.COM>
4071058 visitors since 07/2002



the United States


Cherie's Birthday is June 20th.

Featured on: Yahoo! Picks
& USA Today
OC Register column
Register an account!
Registering for an account is quick, and registered users can send messages to other users, post on message boards rate stories, and are notified of site updates.

Where are you going next?
logged users ::
active for last 5 minutes
Site created by
Raging Network Services
Logo by
Chris Barela


RSS Feed
"Tell me what it is you plan to do with your one wild and precious life?" -- Mary Oliver
204--Ireland: Dzogchen Beara, a Buddhist Retreat
@ CherieSpotting Mar 30 2004 - 11:23 PST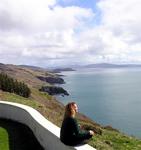 Cherie, at peace at Dzogchen Beara.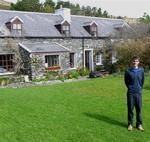 Drew, in front of the hostel.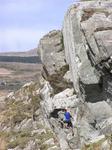 Drew, on his way up.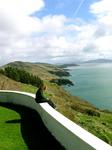 Sometimes, it's the destination.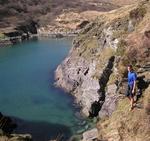 Should we go for a swim?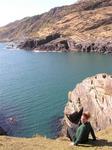 I guess the view is okay...if you like that sort of thing.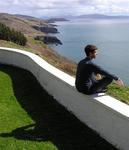 Drew is at peace.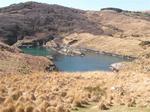 A peaceful cove.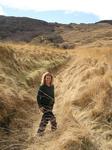 Cherie walking through fields of grain.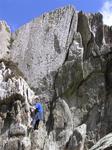 Go climb a rock!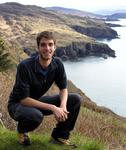 The view from the hostel which costs 12 Euros a night.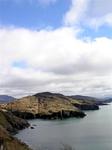 Dramatic scenery.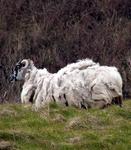 Rasta sheep in Ireland.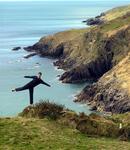 Don't fall Drew!

cherie writes: Normally I would celebrate the journey. But with Dzogchen Beara, a picturesque Buddhist retreat in south-west Ireland, the trip was all about the destination.

I was celebrating the clamoring cobblestone streets of Dublin when I realized my liver I couldn't bear another pint of Guinness. "Whisky," I thought. But my liver squirmed. I needed a break from the city and its luring pub culture. That's when a guy at my hostel named Drew mentioned a place called Dzogchen Beara.

I read the brochure and it mentioned that the retreat was under the guidance of Sogyal Rinposhe and I said: "It must be fate. That guy's name has the same three letters as my last name. I think I should meet everyone with Sog in their name." It sounds silly to me now, but often I make crucial decisions based on ridiculous reasons like this.

"I want to go, but it seems far away," I said.

"I have it all figured out," Drew said. "We take this one bus, to this other bus and then the last few miles we'll hitch-hike. Nine hours later, we'll be there!" Then he showed me a photo of our destination.

"You have it all figured out?" I questioned again.

That's when Drew said the magic words that sealed the deal: "You don't have to worry about a thing," Drew said.

Drew and I left the next morning. I brought my backpack onboard the bus and the driver said: "Put it in the boot."

I smiled. The word "boot" sounded like a secret Irish code. Had I been in the IRA, I might have something equally cryptic: "The fat sheep eats grass on Tuesday."

Then a kind passenger (who was tired of me blocking the aisle) helped me put my luggage in the boot (the trunk.)

The first two hours of our bus journey were fantastic. Then the bus stopped so the driver could get a cup of tea. I didn't know it would be the last time I ever saw the bus driver.

Drew and I also got a snack at the road-side café and all of a sudden I had this incredible feeling of freedom. At some level, I must have known that the bus had just driven off with my luggage, considerably lightening my load.

It turns out, the bus driver finished his tea, before Drew and I finished our snacks—so the driver (and the bus) left without us.

Two hours into our journey Drew and I were stranded in a strange town without our luggage. I was indeed free, and like a bad Buddhist, I was pissed about it. Had I known I might not see my backpack again, I would have given it a proper good-bye.

Drew looked at me and said: "This is completely appropriate. Our journey to the Buddhist monastery should be arduous."

I wanted to punch Drew, but since he is 19-years-old (and 6 ft 4) I reconsidered. I'm not one to abuse a teenager (or anyone bigger than me.) Then I thought about what Buddha said: "Give yourself to the journey." So I did.

Drew and I waited a few hours for the next bus (which was late) and then missed our connection, so we had to find a place to sleep for the night. (A simple 9 hour journey turned into two-day mission.) Luckily, we reunited with our luggage in Cork.

The next day's bus ride to Castletownbere was uneventful except for the homeless man who rode with us and peed on himself, making the bus reek of urine.

By the time we got to our destination, my butt, legs, and nostrils were numb. That's when Drew said: "I wonder if we have to buy our own food?"

"I thought you had this all figured out," I complained, irritable our two-day journey.

"I do," Drew said. Then we called the retreat and were informed that if we wanted to eat, we should head to the grocery store.

That's when I started wondering: What do you eat at a Buddhist retreat? It seems like you should eat soup or porridge or rice. I bet they are all vegetarians! Oh no—they'll think I'm a freak if I bring meat there. Maybe they won't even let me turkey slices into the monastery? This vegetarian stuff isn't going to mix with my healthy "low-carb-except-for-whisky-diet." Maybe I should sneak in some beef jerky? No! Sneaking is so un-Buddhist.

If the access to peacefulness was eating porridge, I vowed to give it a try. So I stocked up on peanut butter and other vegetarian goodies. Then other worries began to seep into my mind. I wonder if I should wear my G-string undies? Can you wear sexy panties at a monastery? What would the Tibetan monks think? What if I see a spider—I won't be able to kill it! The very trip that was supposed to be peaceful and worry-free was beginning to stress me out. Maybe I should have read: "Buddhism for Dummies" before I arrived.

With our bags of groceries we hailed a cab to cart us the last 8 miles of our journey. I found myself speechless when I arrived. The incredible scenery of Dzogchen Beara took away my words and thoughts and replaced them with a smile of complete serenity.

It was Drew who finally broke the silence. "If I am ever a millionaire I am going to have a Tibetan Monk be my realtor. Those monks sure know how to pick property," Drew said.

Click on each picture to see it full size.

read comments (0) | write comment| views: 8421 | rated: 0.0 printer-friendly version