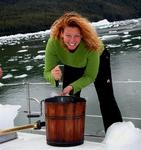 WheresCherie.COM>
4184508 visitors since 07/2002



the United States


Featured on: Yahoo! Picks
& USA Today

OC Register column

Register an account!
Registering for an account is quick, and registered users can send messages to other users, post on message boards rate stories, and are notified of site updates.


Where are you going next?

logged users ::
active for last 5 minutes

Site created by
Raging Network Services
Logo by
Chris Barela


RSS Feed
"A traveler sees what he sees, the tourist sees what he has come to see." -- Chesterton
139--Alaska: What's a P-bar?
@ CherieSpotting Jul 27 2003 - 15:02 PST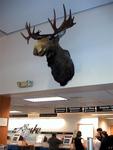 You know you're in Alaska when there's a moose-head in the terminal.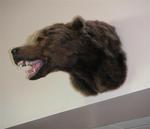 The first bear I saw in Alaska!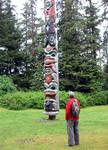 Greg admiring one of Sitka's totem poles.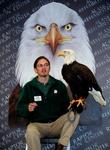 At Sitka's Raptor Center, you learn about Bald Eagles while sitting a few feet away from them.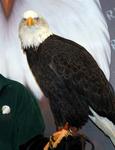 This Bald Eagle has a six-foot wing-span.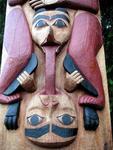 I guess they are swapping spit?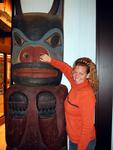 You need a fist to pick this guy's nose.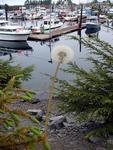 Sitka's harbor is just dandy.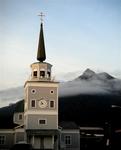 The Russian Orthodox Church in Sitka.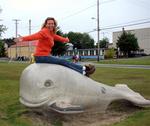 Cherie, almost as big as the whale in the playground.

cherie writes: What's a P-bar?

Alaska's Final Frontier was beckoning me, so I called Rick, the owner of Sound Sailing and made a reservation. The next thing I knew, Greg and I booked our tickets and flew into Sitka for our nine-day tour of Southeast Alaska's Inside Passage on S/V Bob (a Catalina 50.)

I waved goodbye to the congestion of cars and concrete and a few hours later we were flying over the magical abyss of the green and blue North. Hopping off the plane, I stepped into a new world. In a few hours we went from Bay Watch to Bear Watch. The first difference I noticed was the way the people in the airport were dressed. There must have been a flannel-shirt and rubber-boot expo in Sitka that week (while they should have been holding a dentist convention.)

Trophy-fish freckled the airport's walls like fish-art gone wrong. The massive stuffed heads of large animals adorning the walls made me feel like I was zapped into the Country Bear Jamboree. Luckily, the bears didn't sing.

Rick, the Captain of S/V Bob, greeted us at the airport while I was photographing a stuffed growling bear. He burst into laughter: "Don't waste your time! You're going to get much better shots of wildlife on this trip."

"This close?" I snapped a photo of the moose over the Alaska Airlines terminal.

"Closer." He assured me.

Rick is one heck of a funny guy and one hell of a capable captain. Rick bought his first boat (a 14 ft Sunfish) at 9-years old with savings from his paper route. He's been a Captain for 25 years and chartering in Alaska for the past 18 years. A master of Alaska's Inside Passage, Rick is a fish-out-of-water on land. He would be perfectly content spending his entire life on a boat. Though Rick and his wife Jen do own a small place in Sitka, Rick rarely sleeps there and refers to it only as "Condo Nasty."

Greg and I dropped of our luggage at a B&B in Sitka and headed to a local restaurant where we met the other guests of S/V Bob. Since Greg and I have been sailing full time the past year-and-a-half, I assumed we would be the most experienced crew on the charter.

Then I was introduced to the famous French sailor Isabelle Autissier who has circumnavigated the world alone twice. (So she had slightly more sailing experience than me.) Like Greg, it was her first time in Alaska. The other couple on our charter (Dave and Sue) flew from Maryland and had already been on a previous charter with Rick.

"Why did you decide to sail the Inside Passage again?" I asked Sue.
"We try to do this charter every year," Sue confessed. "It's cheaper than therapy."

Before our sailing (and fishing?) adventure began, Greg and I had a day to explore the charming Russian town of Sitka. Rick recommended the museums and the Raptor Center, but the first place I wanted to go was the famous Pioneer Bar. The P-bar, as the locals call it, is the spot where bearded local fishermen chronicle their exaggerated stories about man against the sea.

Walking in the P-bar was like entering a movie that won an Oscar for best costume design. The place was crammed with crusty guys in colorful fishing-rubbers. They were downing shots of whiskey and marinating their whiskers in pints of ale. One bearded brute grunted and clapped his buddy's back like he was trying to expel a lodged chunk of food in his throat.

The P-bar was wallpapered with black-and-white photos of men and their catch. Most of the P-bar customers have spent more time at sea, than on land. The joint smelled like fish guts, stale smoke and spilled beer. It was more than I could have wished for.

Greg and I sauntered up to a bar stool and ordered from a waitress who had heard it all before.

"I'll have chocolate milk." Greg told her. The Twilight Zone came to Alaska and everything stopped. She glared at Greg as if he just ordered a shot of snake blood. Anyone within ear-shot swiveled their seats and peered at Greg as if the "chocolate-milk-ordering-types" weren't welcome in this part of town. Not unless they ordered it with a whiskey back.

"So I guess he shouldn't push it and ask for whipped cream?" I asked to break the silence. Greg may have ordered like a tourist, but I blame my gender for not blending in. The only other lady-folk in the joint were wearing P-bar shirts and taking drink orders.
I tried to make conversation with the stinky fellow next to me. "What kind of fisherman are you?"

He grumbled his reply. "I'm a seine fisher. Not a S-A-N-E fisherman, they don't have none of those up here." I guess the old saying about Alaska's men is true: The odds are good, but the goods are odd.

Greg gulped down his hot coco like man, and we spent the rest of the day hiking among the town's unique totem poles and looking for golf balls in the trees. The "golf balls" in Alaska are Bald Eagles, which we eventually saw even closer at the Raptor Center in Sitka. We stood eye to eye with the magnificent creatures whose wing spans outstretched Greg's height.

I didn't know it then, but this trip to Alaska would be one of the greatest vacations of my life.

Click on each picture to see it full size.

read comments (0) | write comment| views: 7651 | rated: 0.0 printer-friendly version