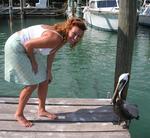 WheresCherie.COM>
3707841 visitors since 07/2002



the United States


Cherie's Birthday is June 20th.

Featured on: Yahoo! Picks
& USA Today
OC Register column
Register an account!
Registering for an account is quick, and registered users can send messages to other users, post on message boards rate stories, and are notified of site updates.

Where are you going next?
logged users ::
active for last 5 minutes
Site created by
Raging Network Services
Logo by
Chris Barela


RSS Feed
"Unhappiness is not knowing what we want, and killing ourselves to get it." -- Don Herold
137--Alaska: Suicidal Salmon
@ CherieSpotting Jul 20 2003 - 05:15 PST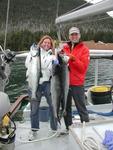 Cherie and Greg with their King Salmon. *Photo by Rick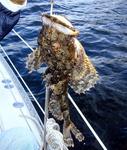 This fish (caught by Dave) promised to put a curse on us if we didn't throw it back!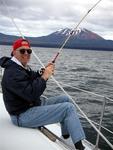 Dave reeling one in!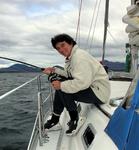 Isabelle having fun.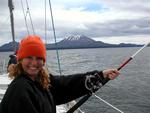 Cherie, all smiles.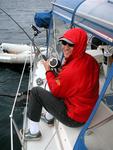 Greg decides he likes fishing after all.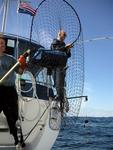 Looks like Rick caught Dave.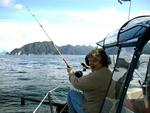 Sue gets another hit.

cherie writes: Isabelle, Dave, Sue, Rick, Greg and I were fishing buddies for 9-day sailing charter in Alaska on S/V Bob. I didn't think I was going to fish in Alaska, I thought I was going to sail. The fishing was a last minute bonus—an unexpected surprise.

"There is one last thing you need to decide before we set sail tomorrow." Rick announced to all of us. "Who wants to fish?"

"That depends," I answered. "Who cleans the fish?"
"I do!" Rick exclaimed. "All you have to do is catch it!"

"Sounds like a deal! But I have to warn you the only fish Greg ever caught was a shark." But Rick wasn't worried. He likes to tailor his sailing charters to his guest's tastes. I was beginning to crave a halibut and king salmon flavored charter.

My already thin wallet was about to lose a bit more weight. Now that we decided to fish, we had to buy licenses. The clerk charged us $30 each for a one-week fishing license and then asked us if we wanted to buy a "King Salmon stamp."

We weren't at the post-office, so I figured something fishy was going on. The salmon stamp was another $30 and you couldn't even use it to send a letter down the block! All in all, it was $120 for two fishing licenses (with stamps) for a couple of sailors who really didn't give a hook about fishing. (That is, until I got my first hit! Then I was one who was hooked!)

The next day we jumped aboard S/V Bob and sailed around Mt. Edgecumbe which looks like a chocolate volcano with a dollop of cream sliding down the sides. We grabbed our rods out and fifty minutes later we maxed out on our King Salmon take (one salmon per person, per day.) I heard Alaska had a high rate of suicide--but with salmon, it is ridiculous. I merely dropped a hook in and the Chinook chomped down and took off with the twinkling lure imbedded its jaw. The five of us were catching fish too fast and worse, at the same time.

Rick shouted: "No one catch any fish for the next five minutes. We're in a holding pattern. I have to get these ones on board." Isabelle, Dave and Greg all had delicious monsters pulling at the ends of their lines. As I reeled in my line to get my lure out of the water, I snagged another one! "Fish on!" I screamed. "I'm sorry Rick! I didn't mean to!"

Greg finally caught his first non-shark fish, a 26-pound King Salmon. My first salmon was a fighter and must have lost considerable weight during his battle which explains why my fish came in a few pounds under Greg's. (But everyone agreed that my salmon was cuter.) I wanted to cut it open to see if it was a hen or a buck. (I love using angler lingo.) But oddly enough, Rick explained that the female salmon are still called "Kings."

Elated after I reeled in my first catch Rick joked: "Are you ready to clean her?"
"Since the fish has spent its entire life in the unspoiled Alaskan waters, can't we assume she is clean?" I responded.

Rick prefers to filet all the fish caught since cleaning the salmon more often results in making a mess. But I wanted to learn how to do it! And if I cleaned the fish myself, I could easily identify them later. (If the filet looked like it lost a battle with a cheese-grater—then obviously I cleaned it.)

When I actually put on the rubber gloves to get started, Rick was shocked. "I want to filet the big fat one I caught." I asserted.

"Please don't ruin the big fat one!" Rick pleaded. I became very fond of Rick's sarcastic humor. Rick suggested I destroy only one side of a fish, that way I could get a photo and still take home the experience of fish-cleaning without butchering the scrumptious salmon.

Isabelle may hold the World Record for sailing from New York to San Francisco (around Cape Horn), but Dave has the record for catching the biggest fish, smallest fish and weirdest fish on our little Alaska charter. The biggest one Dave reeled in was a 112 pound Skate, the smallest was a snack-size flounder dainty enough to serve on cracker, and the weirdest I'd rather not talk about. That funky fish threatened to put a curse on me if we didn't throw it back.

Dave jigged the Skate (similar to a stingray) up from the bottom while searching for halibut. I wanted to bring the massive thing on board, but Rick advised against it. "Do you really want to kill the Skate just for a picture?" Rick asked.

"Not if you put it that way!" I conceded. How did he know I just wanted a photo?

"Is it hard for you kill a fish?" I asked Rick after he clubbed another flopping halibut. "I really don't like to kill." Rick joked, "But I get people on the boat like you who demand halibut for dinner."

I felt sorry for each fish as Rick gaffed it and then stunned it. Sue put her arm around me and offered a little consolation. "It's partly the halibut's fault…for tasting so good." Sue's comment helped me to forget death and remember dinner.

We sailed off with over a hundred pounds of halibut and king salmon which became the unexpected souvenirs of our vacation. We caught as much fish as fit in S/V Bob's freezer, and then took as much home as Alaska Airlines would let us check on the plane. The last trip Dave and Sue chartered with S/V Bob they feasted on the frozen salmon and halibut they caught for two years. In one day the fishing license paid for itself!

*For more information about chartering sailboat "Bob" see www.soundsailing.com

Click on each picture to see it full size.

read comments (0) | write comment| views: 11289 | rated: 0.0 printer-friendly version