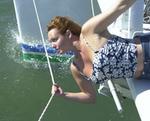 WheresCherie.COM>
4071015 visitors since 07/2002



the United States


Cherie's Birthday is June 20th.

Featured on: Yahoo! Picks
& USA Today
OC Register column
Register an account!
Registering for an account is quick, and registered users can send messages to other users, post on message boards rate stories, and are notified of site updates.

Where are you going next?
logged users ::
active for last 5 minutes
Site created by
Raging Network Services
Logo by
Chris Barela


RSS Feed
"Art is a lie that enables us to realize the truth." -- Picasso
111--The Cayman Islands: To Hell and Back
@ Where`s Cherie? Jan 08 2003 - 10:27 PST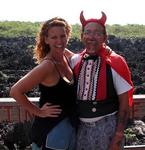 Cherie with the "official Devil of Hell"--Ivan.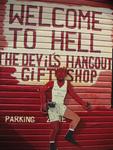 If you're stuck in Hell, you might as well buy gifts for your loved ones.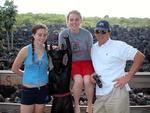 Four little devils...Lauren, Katee, Tom and ugly ceramic thing.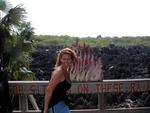 Here I am as close to the "flames of Hell" as I ever want to get!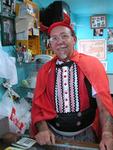 Ivan is the owner of the Devil's Hangout. Could he possibly be SATAN?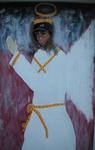 Tom thinks he's an angel.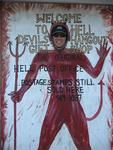 There are times, when Greg doesn't need the costume.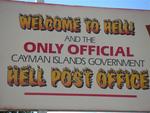 Even Hell has a post office.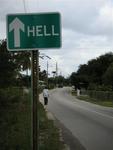 The road to Hell is paved in the Cayman Islands.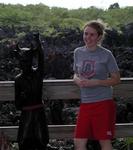 Katee laughs at the devil. He's got nothing on her! *Photo by Tom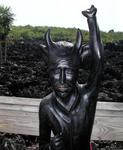 Silly or scary? You decide. *Photo by Tom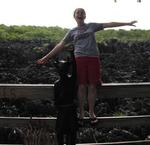 Katee falling into the craggy abyss of Hell. *Photo by Tom.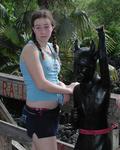 Lauren is just pretending she's bored. *Photo by Tom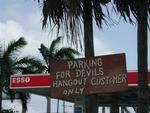 No angels allowed to park here! *Photo by Tom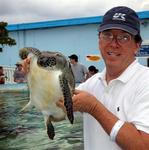 Tom playing with a turtle.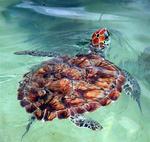 Turtles are cute.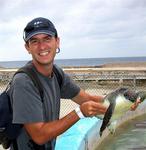 The turtle made sure Greg got a bath.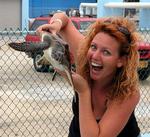 Flying turtles!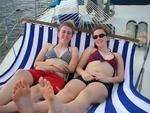 Katee and Lauren, happy on the hammock!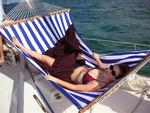 Lauren determined to hold on!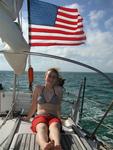 Katee, an all-American girl.

cherie writes: Cayman Islands: To Hell and Back

I've finally got a witty response in store for the next person who tells me to go to Hell. I'm going to say: "I've already been there."

In the Cayman Islands, Hell isn't a place you go to when you're bad, it's a place you go to when you're bored. And you don't have to imagine the scorched earth and unbearable heat…its all there naturally! In Hell, you can even pose with a devil.

Hell is a real place; it's an actual city in the Grand Cayman. And it looks like what any five-year-old kid would imagine "Hell" to look like. (Except this Hell has a post office. I guess even Satan needs to keep in touch!)

The strange black land formations that give the city "Hell" its name are technically called Phytokarst. Phytokarst is basically eroded limestone and dolomite that give the black rock a craggy life-less underworld quality.

Since there is not much to do in the Cayman Islands except sit on the beach or scuba dive, a local named Ivan Farrington turned the city of "Hell" into a kitschy tourist trap. Ivan opened a little shop that sells hats, T-shirts, cups, magnates, key-chains, postcards, and any trinket you can imagine (shoe-laces?) with "I've been to Hell" printed on it.

I don't know what in the Hell I was expecting the shop owner to look like, but it wasn't a local dressed up in a devil's costume. Somehow, I persuaded Ivan (complete with red cape and horns) to close his shop for a few minutes and pose in front of Hell with me.

As far as I am concerned, the guy is a marketing genius. At times Ivan says his job is as "hard as Hell," but the friendly tourists (especially female ones) make it all worthwhile. I asked him if Hell was a nice place to live and he said "It sure as Hell is!" He also touched his red horns and informed me that he was "a little horny" today.

"Ivan, if you keep flirting with me, there is going to be Hell to pay!" I admonished him.

Ivan and I were being very punny. We exchanged Hell puns until we bored everyone but ourselves. (Note: Katee and Lauren were the first ones bored.) I hate like Hell to say it, but it was as hot as Hell outside and we still had a Hell of a time. Perhaps a lot of people can say they've "raised Hell," but Ivan's the only guy I've met whose actually been "raised in Hell."

We parked at the Devil's Hangout and Katee feigned falling into the weather-beaten black rock. Lauren entertained herself by posing with the ceramic devils. Tom pretended to be an angel (with his head poking through a poorly painted board) and Greg was the ply-wood Devil. I, of course, took a picture with the only "Official Devil" in Hell--Ivan.

Now that I've seen Hell, it's not such a bad place. And I've decided I don't need to see the "real Hell" to compare it to.

Our next stop, as proper Grand Cayman tourists, had a Hell of a lot of turtles. At the Cayman Turtle Farm you can see the little green swimmers up-close, touch them, and even pick them up. You learn a lot about turtles including that many people enjoy their flavor.

Since the farm opened it has released over 30,000 green sea turtles into the wild, and as a visitor you can even sponsor a turtle's release for $5. The unlucky turtles become "turtle chowder." The Caymanians (along with a large list of other nations that import turtle meat from the Cayman Islands) enjoy their turtle soup, but don't want the species to become endangered.

Tom, Greg and I wanted to play with the turtles a lot more that they wanted to play with us. Catching a turtle is a lot harder than one might imagine. So after taking a few pictures, buying a turtle trinket (a purse that looks like a turtle, not made from a turtle) we headed for Rum Point, a beach where you can do everything else there is to do in the Cayman Islands…snorkel, eat, and lay in a hammock. (For the record, "snorkel" is my favorite word. It sounds almost as funny as the equipment makes you look.)

Scirocco, with its crew of five, sailed over to Rum Point. It was Katee and Lauren's first time on Scirocco. Their dad, Tom Lafleur (owner of UK Sails, Southern California) has a 53 Swan named "Mistress" that the two teens are used to being on.

I wanted to have a little chat with the ladies before we set sail. Compared with the luxurious "Mistress," sailing on "Scirocco" was going to be like going camping.

I didn't know how to break it to them. The list of amenities Scirocco lacks (that Mistress has) includes (but is not limited to): a television with a VHS player, a microwave, a "working" oven, a water-maker, a generator, an espresso maker, self-tailing hydraulic winches, a roller-furling jib, a computer navigation station, Single-Sideband Radio (SSB) and teak decks.

Scirocco has none of these items. I was afraid the girls would be disappointed. But, to my surprise the Katee and Lauren were excited! "We love camping!" they exclaimed. They said they didn't mind riding around in a dinghy older than they were. And they couldn't have been happier with the one item that Scirocco has that the Mistress does not—a hammock (big enough to comfortably fit two!)

I remember when I was 15 years old (barely since it was over 15 years ago.) I don't think there was ever a time in my life when I was more certain about how the world worked. I had it all figured out. Oh, to be a teenager again and know, without a doubt, how right you are about everything!

Katee and Lauren knew two things for certain: one, that they could remain in the hammock while Scirocco was under sail (in 20 knots of wind), and second, that they were old enough to shoot off fire-works by themselves.

We strapped those girls in the hammock and took them for the ride of their lives! Scirocco rocked the screaming teens around like a psycho nanny. But they stuck it out--with the intense conviction that only a teenager-trying-to-prove-a-point can have. When we finally arrived at our destination we celebrated their success with pina coladas and a fire-work show.

Tom is a very loving and diligent father. It's not every dad these days that will give his young daughters explosives to play with. Before he let his girls dazzle us with a spectacle of light, he sat Katee and Lauren down and explained how to light the fire-works, the history of fire-works, finally gave them a fatherly lesson in fire-work safety.

It turns out Katee had a tragic childhood sparkler accident that has kept her in fear of the sparkly-sticks ever since. Her grandfather handed her a sparkler and she grabbed it on the brilliant side; the side a child would be most inclined to touch. The resulting pain seared the fear of firecrackers into her deepest memories. Even so, she was as determined as Lauren to give us a one Hell of a light-show!

"Are you sure you don't want me to come with you?" Tom kept asking (one might say "kept pleading.")

"No Dad! We can do it on our own!" The girls announced with big eyes and hands on their hips. Why couldn't their dad just trust them with the volatile explosives? I mean, come on, they were 15 and 16-years-old. Had you just walked into the conversation, you would have thought "setting off fireworks" was Katee and Lauren's tenured profession.

Tom made it clear that there was one final rule before they left: They could only light off one firework at a time.

I think the word "fine" must be a teenagers favorite word because that it what they said before they marched off with their mighty sticks and seeped into the dank darkness. I think I heard Katee and Lauren mumble the teenager's second-favorite word, "whatever" as they ambled onto the beach armed with twelve explosive fireworks.

"Can you see them? Where are they?" Tom asked. Tom was rightfully afraid to bring the kids home to his wife with their daughters missing important appendages. I was just glad he didn't arm them with gasoline and hand-grenades.

Then I saw the flick of a lighter on the beach illuminating a three-foot firecracker stabbed into the wet sand. "Isn't that pointing right at Scirocco?" I asked Greg.

As Greg shrugged and said, "I'm not sure." Then we saw the stick launch directly towards our mast; its spray of flaming color burst not more than ten yards away.

"A little left next time!" I yelled to the girls.

"That was cool." Greg exclaimed excitedly. "I'm glad we get to see it eleven more times!"

Later Katee and Lauren informed me that they weren't sure whether I meant "my left" or "their left". That was their explanation for why the next firework they detonated exploded just as close as the first one.

"Oh no," I whispered to Greg. I could see what the girls were doing. I counted three fuses lit where there should have been one. Katee and Lauren were lining up the fireworks on the beach to explode simultaneously for the big Finale. But something went wrong. The girls were screaming.

The first little firework wouldn't go off, the second little firework blasted into the sky and the third little firework dove into the water and surged at the boat like a flaming torpedo. If someone doesn't like Scirocco, I'd prefer they just say so. I didn't want Scirocco to "turn turtle" and end up as one more wreck littering the Cayman Islands.

Luckily, Lauren wasn't screaming because of the fireworks. She was being assaulted. The perpetrator was an attack crab bent on tickling Lauren's calve. Luckily the ladies escaped the menacing crustacean and returned to the boat to collect their accolades for brilliant firework show!

Tom, Greg, Katee, Lauren and I are the only people I know that can say "We've been to Hell and back." And enjoyed the ride.

*Scroll down to see all the pictures!

Click on each picture to see it full size.

read comments (0) | write comment| views: 8839 | rated: 0.0 printer-friendly version