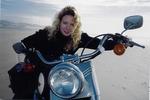 WheresCherie.COM>
3984084 visitors since 07/2002



the United States


Featured on: Yahoo! Picks
& USA Today

OC Register column

Register an account!
Registering for an account is quick, and registered users can send messages to other users, post on message boards rate stories, and are notified of site updates.


Where are you going next?

logged users ::
active for last 5 minutes

Site created by
Raging Network Services
Logo by
Chris Barela


RSS Feed
"Life should not be a journey to the grave with the intention of arriving safely in an attractive and well-preserved body, but rather to skid in ideways, champagne in one hand--strawberries in the other, body thoroughly used up, totally worn out and screaming, "Woo-Hoo,What a Ride !" " -- Unknown
101--California: Klub Karem (30th Birthday!)
@ Site News Dec 08 2002 - 11:05 PST

Karem couldn't be happier on her 30th birthday! She has a fantastic husband, incredible family, spectacular friends (of which I happen to be one of),a wonderful home, and a great job! No wonder she's smiling!

Karem and Tim getting ready to transform their home into "Klub Karem."

The DJ setting up the lights and sound.

Just in case you need a snack.

The bar.

The bartender.

The dance floor. (That's the last time it was empty!)

Shirley and Karem before they are all dolled up.

A little mascara.

Shirley looking sexy.

Liliana keeping Tim occupied.

Karem multi-tasking.

Kathy's always smiling.

Karem and Tim ready for the guests to arrive.

Karem thanking Tim for throwing her a 30th Birthday party she'll never forget.

Karem and Cherie.

Karem and her sister Shirley.

What a beautiful smile!

Shirley, Kathy, Karem, Jennifer and Cherie. (Family and Friends.)

Cherie and Greg.

The younger sisters, Kathy and Shirley.

Sexy legs.

"We are family" Kathy, Shirley and Karem.

The friends begin to arrive.

Karem tastes the drinks, just to make sure they are up to her standards. They are!

Scott and Martha.

Deanie and Mills.

Watch 'em boogie.

The dancing begins!

Nevin, Karem and Jennifer getting down.

Cherie and Nevin.

Lorena, the godess of Peru.

More friends!

Jennifer demonstrating the proper "butt shake."

Girls just want to have fun!

Friends and family...everywhere you look!

You have to be an incredible person (like Karem) to have this many friends!

A good time was had by all!

You can never have too many friends.

Tim presents the cake.

On your birthday, you can have your cake and eat it too!

Karem is fed the first bite!

Tim tries a taste.