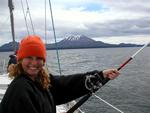 WheresCherie.COM>
4184543 visitors since 07/2002



the United States


Featured on: Yahoo! Picks
& USA Today

OC Register column

Register an account!
Registering for an account is quick, and registered users can send messages to other users, post on message boards rate stories, and are notified of site updates.


Where are you going next?

logged users ::
active for last 5 minutes

Site created by
Raging Network Services
Logo by
Chris Barela


RSS Feed
"You are a child of the universe no less than the trees and the stars; you have a right to be here. And whether or not it is clear to you, no doubt the universe is unfolding as it should." -- Max Ehrmann
96--Panama: Up Your Mast!
@ CherieSpotting Nov 23 2002 - 10:59 PST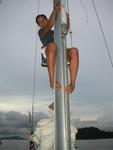 Greg, on his way up the mast for the first time!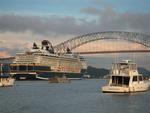 Don't you rock my boat!!! The cruise ship that passed us, heading under the Bridge Across America.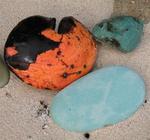 The blue rocks of Isla Contadora. (Orange thing, unidentified.)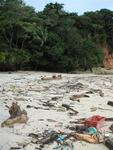 The famous nude beach "Playa Nudista" on Contadora, sadly blemished with trash washed ashore.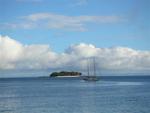 "Starform" anchored at Contadora (the only other "cruiser's" we met the entire time we were at the Las Perlas Islands.)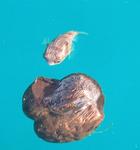 A tiny puffer-fish pecking at a coconut floating alongside "Scirocco".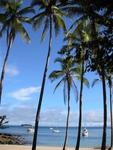 The palm tree lined anchorage at Isla Contadora. (Scirocco is in the middle.)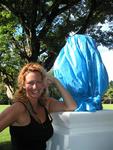 This guy must have either been very important, or very disliked. I think the plastic bag over the statues head is protecting it from the rain.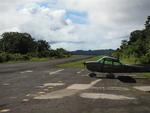 The "airport" at Isla Contadora.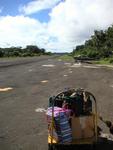 You can't pack very much when you're flying to these islands. It's very possible that the pilot says: "It's either you, or your luggage...but not both!"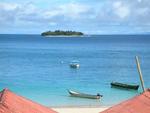 The view from Isla Contadora.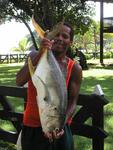 A local fisherman holding up lunch!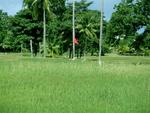 So that's why golf is so cheap in Panama! (Perhaps it's time to manicure the green.)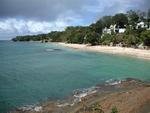 Another view from Contadora.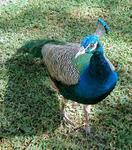 A colorful peacock wandering around the island.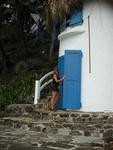 Here I am exploring an old windmill.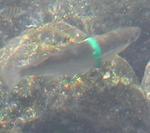 A little fish with a plastic ring around its abdomen.

cherie writes: Up Your Mast!
"Time to go up the mast again!" Greg shouted.
Mast maintenance has become my responsibility on Scirocco. It's like choosing which side of the bed you sleep on—once you've divvied up the boat duties—there's no going back. Usually I get the job of being hoisted up that metal stick swaying to the chaotic jolt of slapping waves. But lately, I was beginning to feel underappreciated in my mast climbing efforts. (Could it be Greg's laughter as I banged into the shrouds like a toy ball attached to a paddle?)
"When was the last time you went up the mast?" I inquired.
"Never." Greg stated.
"Never? I think it's about time you see your boat from a different perspective."

The location was the Balboa Yacht Club in Panama. After three years of owning Scirocco, Greg finally ascended his own mast. We were moored about fifty yards from the shipping lane where 900-foot ships passed by every fifteen minutes heading for the Panama Canal.
I hauled him up the mast with a system of ropes and pulleys (except since we are on a boat, they are called lines and blocks.) People on yachts give everything a new name so you can tell a true sailor by their correct use of sailing terminology.
"How are you doing up there?" I yelled.
"I don't like it." Greg shouted back. He doesn't like heights. It probably didn't help that he was dangling above the deck swinging by a line held by his girlfriend (and I can barely lift my own luggage.)
Then I saw a cruise ship blazing down the channel. The ocean froth was spewing from its bow. Greg saw the ship, and then he saw what was more important--its wake. A frantic look stole Greg's face. He started yelling at the ship: "Slow down! Slow down!" He hung there, like a dangling ornament. Then his arms and legs would flail around helplessly when he hollered at that ship. Of course they couldn't hear him. Then Greg pleaded with me: "Cherie, tell them to slow down!"
Now I can project my voice, but it was quite comical to see me and Greg screaming helplessly "Despacio! Despacio!" or "Slow!" in Spanish to the passing ship.
I know the guy at the helm of the cruise ship was chuckling to himself as Greg became a tether ball in the wake of all wakes. He was swaying back and forth like a pendulum. I imagined the cruise ship's First Mate peering through binoculars at Scirocco and thinking: "What is that thing swinging around on that cute little sail boat? Oh my! It's the Captain!"
Now I consider Greg to be the Captain. First, because he owns Scirocco. Second, he's an amazing leader and sailor. Third, he can fix everything and anything that breaks on his boat. But let's get this straight. I don't call him "Master." So I was somewhat taken back when a guy at the yacht club pointed to Greg and asked: "Is that your Master?"
Now I wish I could have come up with a witty reply. But it is at the times when I need it most, that my sense of humor fails me. "Master?" I asked.
"You work on that boat, right?"
"Yes." I answered. (Greg might say I offer more companionship than hard labor.)
"And he's the Master." The guy said pointing to Greg. So if you ever hear me saying "Yes, Master" to Greg, you're now "in" on the "inside joke."
For the record, I think Greg likes being called "Master", which is what the people in Panama call the captain of any vessel, even if the boat is 41 feet and powered by a sail.
Greg was at the top of the mast fixing the topping lift (which is an entwined metal cable that snapped like a toothpick in a recent storm.) Once Greg had two feet on the bow again he said: "I am never doing that again." So there it is, just like a typical Master, making the galley slave (me) do all the work.
With the topping lift fixed, we were finally able to shake our boom and head out to Isla Contadora. We sailed between the squalls and found a beautiful anchorage framed by palm trees. I like places where the population is primarily fish. A little puffer-fish came out to greet our boat and gave us his best "puff" trying to scare us away. (Or to show us who was the boss of the anchorage.) I happen to think that fat spiky-fish are cute (even at full puff), so we stayed.
Contadora is a haven for the Latin American rich and powerful with luxurious villas lining the island's coast. They even have a golf course with vibrant greens that were manicured at least a year or two ago. Even less maintained is the airport (which consists of one landing strip with waist-high weeds busting through the tarmac.) The island has a couple of expensive resorts but a few steps away from the luxurious hotels, the island footpaths are like walking through a dense jungle. We stumbled upon statues (covered in plastic to protect them from the rain) and charming windmills—uncovered and open for exploration.
We also went to the only place you can legally be naked in Panama "Playa Nudista" on Contadora. The beach was freckled with brilliant blue rocks but there were no naked bodies. The beach might have been postcard material except that it was full of trash. Not the trash moms always tell their teenagers to stop dating…but disgusting plastic bottles, rusty cans and washed-up ratty shoes. It's terribly sad to see a beautiful beach littered with junk washed in by the tides. It's even worse when garbage affects the marine life. I saw a little fish with a green milk cap plastic circle stuck around its abdomen. When the fish grew, it would surely die from the plastic's constriction. It's places like this that I assign myself beach clean-up duty. It's my little contribution to society, leaving beaches cleaner than when I found them. A few hours and a few plastic bags and a pristine beach is reborn. Greg supports my beach cleaning efforts, but he doesn't like me bringing the trash back to the Scirocco. "We don't have room!" he always says. But we just hang the trash bags off the transom until we find a place we can properly dispose of them.
Of course we have room for six tool boxes and a surf board Greg has never used. After a beach clean up Greg said: "Will you help me carry this?" It was a 3-foot tall fishing transponder that weighed about 65 lbs. It had fallen off a boat called "Atlantis" and was probably last seen about the same time as the lost city.
"Where do you want to put it?" I asked.
"We'll take it back to Scirocco. We can sell it!"
"Let me guess, we can put it next to your surfboard?"
"Seriously, we can make money on this!" Greg exclaimed.
"Who is going to buy that?" I asked.
"A fisherman." Greg was certain about this.
"A fisherman? You mean the scraggly guys who spear fish out of dug-out canoes and sell their "catch" for pocket change. What are they going to do with that thing?"
"I don't know. Can you take a picture of me with it?" Greg asked as he hugged his new big metal toy.
"I'd love to take a picture, as long as I don't have to lug it back to the boat and smell that stinky thing until you trade it for a coconut." I know with certainty that if Greg had a garage, an inoperable car (worth a lot of money once it was restored) would sitting in it.
As we were walking back to the boat Greg asked me "Do you ever miss anything from home?"
"Yes" I admitted. "I miss my family and friends, and every once in a while I miss getting all dressed up and going out."
"But we went to that "Cruiser Pot-Luck" last week? We got dressed up for that!"
"We got dressed for that. Not dressed-up." (If Greg has to wear shoes to a function he considers it fancy.) "I'm talking about wearing a nice dress and a string of pearls."
"We're in the Las Perlas Islands, you can get some pearls if you want to wear them!"
Oyster pearls are common on the islands of Las Perlas (hence the name.) And since my zodiac sign is "Gemini," the pearl is my birth stone. Probably the most memorable jewel ever pulled out of the island's waters was a Peregrina Pearl weighing in at 31 carats. It was a pearl fit for a Queen and worn by one—Queen Mary Tudor.
"We can find out about buying some cheap jewelry here tomorrow." Greg said. (Note to guys: When talking to a woman, try to keep the words "cheap" and jewelry" out of the same sentence.) But what Greg didn't know is that we'd be leaving the islands sooner than we expected. We left the Las Perlas Islands pearl-less.
It was at 4:32 in the morning that we heard a rumble. The sound was the same growl the invisible monster (that hid under your bed as a child) made in your nightmares. But the growl wasn't a hideous imaginary monster. It was something real and more dangerous. Rocks--they scraped against Scirocco's belly trying to tear her insides out. For a sailor, that noise is like fingernails on a chalk board. It's simply a sound you never want to hear. Greg and I bolted out of bed; we knew what the monster underneath was capable of. If we didn't act quickly, those rocks could rip Scirocco open and sink her.
Scirocco was sitting 19 feet lower than when we anchored her earlier that day. Greg maneuvered Scirocco off the rocks with a few powerful thrusts of the engine. Then I began to pull up the anchor.
"No!" Greg shouted. "Every time you crank in the anchor, you pull us over the rocks again!"
"What should I do?" I screamed from the bow of the boat.
"Drop all the anchor line!" Greg yelled.
So there it went, 300 feet of chain onto the rocky shallow bottom. Greg maneuvered Scirocco away from the rocks and yelled: "Now get into the dinghy and pull up all that anchor chain by hand."
"Yes Master!"
Did I mention that the sun was not even out yet? I scrambled into the dinghy and pulled a few feet of chain in before I realized Greg's plan was a bad one. It wasn't bad because I was wet, tired and had anchor gunk all over me--but because I physically could not pull up 300 feet of heavy chain attached to a heavier anchor.
"Greg! This isn't going to work! I can't pull up anymore of the chain!" I said.
Greg gave me a theatrical sigh of disappointment and topped it off with an eye-roll that let me know he had years of teenage eye-rolling experience behind him.
"Do you think you can manage to keep the boat off the rocks while I pull in the chain?" It was really hard not to say "Yes, Master" again.
"My, you are grumpy for a guy who owns his own yacht and is about to see a spectacular sunrise over a deserted beach on a tropical island." I offered instead.
We switched places and Greg was ready to show me how easy it was to pull the anchor up when he gave the chain a hearty manly tug.
But the chain didn't budge.
"Is there anything I can do to help?" I asked.
"Yes! Call a boat broker!" Greg yelled. "And get me my mask!" Greg demanded.
"Yes Master!" I couldn't resist.
I retrieved the requested snorkel equipment and Greg jumped into the water. Did I mention it was still dark out? The chain was caught on a rock. Even worse, the chain was tangled around the rock like a ribbon ties up a Birthday present.
Greg wrestled with the rock and chain while I maneuvered the boat away from the rocks. An hour later he had 300 feet of chain in the dinghy and we were off to deeper, safer waters. Another close-call, calls for another beer for breakfast. From the top of the mast to the bottom of the sea, sailing is just one crazy adventure after the next

Click on each picture to see it full size.

read comments (0) | write comment| views: 16504 | rated: 0.0 printer-friendly version