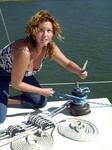 WheresCherie.COM>
3753895 visitors since 07/2002



the United States


Cherie's Birthday is June 20th.

Featured on: Yahoo! Picks
& USA Today
OC Register column
Register an account!
Registering for an account is quick, and registered users can send messages to other users, post on message boards rate stories, and are notified of site updates.

logged users ::
active for last 5 minutes
Site created by
Raging Network Services
Logo by
Chris Barela


RSS Feed
"One word frees us of all the weight and pain in life: That word is love." -- Sophocles, 406 B.C.
119--Turks & Caicos: Windsurfing Discovered : message board
Thank you!
(by catnip (Standard user) Feb 27 / 19:49) Cherie, thank you for the response. We have somewhat narrowed our selection of honeymoon sites to the Cat Islands in the Bahamas. We are looking at a really cool villa on the ocean, lots of scuba, and snorkling, etc, but remote. 10 days of almost paradise! Your tours, your adventures look so inviting. It is a pleasure to go along with you for the ride. I did enter your email upon registering for your site, but here it is again, just in case you should ever need it: dreama_goodpasture@irco.com.
Thank you again, and be safe. Aunt Dreama


beautiful
(by smorgan (Standard user) Feb 25 / 01:20) Yes, Cherie, you are too, but I the pictures from the Turs & Caicos islands - the water is beautiful!

I miss you!


Caicos
(by catnip (Standard user) Feb 24 / 18:13) Cherie, this is Kristi's Aunt Dreama. I am getting married May 3, and the location you are currently looks like a wonderful place for a honeymoon - exactly what we both love, yet not too far into the West Indies. (Plus, I have a tremendous fear of flying). Would you recommend it? Please let me know at your earliest convenience (if possible). I hope all is well with you and yours. I envy, but have your website to indulge my envy. Be safe.