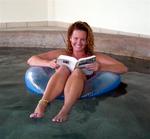 WheresCherie.COM>
4167811 visitors since 07/2002



the United States


Cherie's Birthday is June 20th.

Featured on: Yahoo! Picks
& USA Today
OC Register column
Register an account!
Registering for an account is quick, and registered users can send messages to other users, post on message boards rate stories, and are notified of site updates.

logged users ::
active for last 5 minutes
Site created by
Raging Network Services
Logo by
Chris Barela


RSS Feed
"Be brave enough to live creatively. The creative is the place where no one else has ever been. You have to leave the city of your comfort and go into the wilderness of your intuition. You cannot get there by bus, only by hard work, risking and by not quite knowing what you are doing. What you will discover will be wonderful; what you will discover will be yourself. " -- Alan Alda
106--Panama: A Ship Wreck and a Blue Shark : message board
You must be registered and logged to post the post at this board.