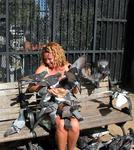 WheresCherie.COM>
4167820 visitors since 07/2002



the United States


Cherie's Birthday is June 20th.

Featured on: Yahoo! Picks
& USA Today
OC Register column
Register an account!
Registering for an account is quick, and registered users can send messages to other users, post on message boards rate stories, and are notified of site updates.

logged users ::
active for last 5 minutes
Site created by
Raging Network Services
Logo by
Chris Barela


RSS Feed
"It is much less painful to fail at something unimportant." -- Michael Lynberg
91--Costa Rica: Life Outside the Box : message board
Note.. I wanted to shave
(by greg (Service Admin) Oct 23 / 23:16) I know I look like a ratty unkept ragamuffin (as my grandma would put it) but it's not my fault! Cherie asked me not to shave. I think I prefer the cleanfaced look myself, but cherie says my beard makes me look 'rugged'.